Written by David Hanenburg | Topic: health and wellness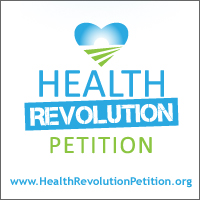 Look around, do you really think we are a healthy country? Our current health care system has some good and even great aspects but it can be much, much better.
The current primary focus on "sick" care must be equally balanced with a true focus on "health" care (prevention). Politics, greed, and ignorance needs to be replaced by cooperation, abundance, and awareness. This is the only sustainable path for our country.
The Health Revolution Petition is a way that we as the citizens of the United States can let our government know that we want a balanced and open health care system.
The main topics addressed in the petition include:
Federal government encourage and reward citizens for personal responsibility for their health.
Restore health freedom and legalize all forms of healing.
End the FDA and pharmaceutical companies ethically questionable relationships.
Protect the food supply.
Improve the processes of medicinal science and include full disclosure of medical studies for public viewing.
Restrict the ethically questionable methods pharmaceutical companies use to promote their product to consumers and medical professionals.
Protect children from products that compromise their health.
Ban man-made, non-natural, cancer-causing chemicals in cosmetic and personal care products.
Invest in disease prevention.
Protect the environment from drug and chemical companies.
You can look at the petition to get more insight into each topic.
Once 100,000 U.S. citizens sign this petition, it will be provided in a report and given to every member of the House and Senate as well as the office of President Obama. In a little over a month there are close to 20,000 signers.
This petition is not about eliminating the current system, it actually expands and improves it multi-dimensionally for the benefit of all of us.
How does a healthy and prosperous American sound? These two really do go together. I don't think you can have one without the other long term.
If the above information resonates with you, please sign the Health Revolution Petition. We as citizens can create change.
Be active and feel the buzz!
Posted on 01 Apr 2009